"Homestay Tuition:" Fuer Studenten die vollstaending in die englische Lebensweise eintauchen und auch Unterricht nehmen wollen ist dies das ideale Programm. Es bietet staendigen Kontakt mit Englischsprechenden und Privatuntericht.

"Homestay Tuition:" Per coloro che vogliono un immersion nello stile di vita inglese, ma che desiderano avere anche delle lezioni private di inglese, la soluzione potrebbe essere quella di vivere presso insegnante di lingua. Questo programma permette allo studente di progredire rapidamente nell' acquisizione della padronanza dell' inglese attraverso un contatto costante con degli angolofoni in grado di insegnare la propria lingua.

"Homestay Tuition:" Para aquellos estudiantes que crean que una integraci'on en la vida inglesa es para ellos/as, pero que tambi'en necesitan lecciones. Esta soluti'on ofrece constante contacto con gente inglesa y tantas clases de ingles como se necesiten. Este programa ha sido disen~ado para facilitar un progreso rapido en ingl'es!


What we do:-
From your first e-mail you speak direct to the teachers. You get the course YOU want. And we make learning fun!
Live well!:- "The English House" bedrooms are comfortable, each with study areas and tv. The food is good international style cuisine. Vegetarian diets? -no problem!
Where we are:-
Torquay, Torbay, Devon, South West England. "The English House" is 200 metres from the beautiful sea coast, a good, safe place. Torquay, popular with ESL/EFL students, has many attractions. World famous writer Agatha Christie, "The Queen of Crime!" was born here.


For more information:-
Naehere Information:-
Per ulteriori informazioni:-
Para mas informaci'on:-
Pour tout renseignements compl'ementaires:-


e-mail:-
english@eclipse.co.uk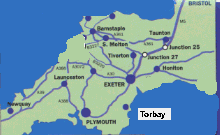 Visit the Torbay Homepage, for more on the South Devon area.
Students, visit the University of Exeter website.


Agents-

Enquiries welcome.

---
Copyright © 1998 Stuart Pillinger