If you want to become a successful healer and health care practitioner or if you have a desire to help people in a natural, yet powerful way then we can help you achieve your aims. Wherever you are in the world we can now make it possible for you to integrate polarity into your existing health care practice or use it to help to improve the health and wellbeing of your family and friends without even having to leave the comfort of your own home.

Our acclaimed Distance Learning Programme in Polarity Therapy contains everything you need to know to study this comprehensive health care system, without the additional travel expenses and accommodation costs, which can increase the price of other trainings. You can take as much time as you wish to study the extensive package and you have the additional advantage of re-running the tapes and videos as many times as you need to get a good grasp of the material - a luxury not afforded in any conventional trainings. As you work your way through the step by step study guides you will be acquiring new skills and insights every day building up to a substantial body of knowledge and work.

This remarkable learning package, brought to you by expert tutors of many years experience, contains the following material.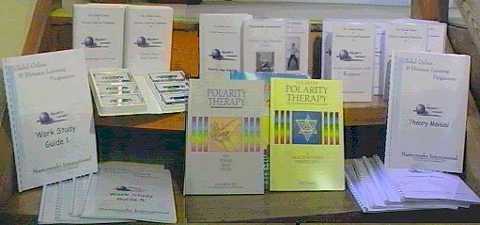 6 Bodywork videos
1 Nutritional video
1 Communication video
2 Exercise videos
24 audiotapes of lectures in 4 library cases
5 Workstudy manuals with over 100 individual lessons in energy healing
1 Communication manual
1 Theory manual
1 Technique manual
1 Nutritional manual
Quinta essentia - A Study of the 5 Elements by Morag Campbell RPP
Polarity Therapy- The Power that Heals by Alan Seigel MSc N.D.
The Art of Polarity Therapy by Phil Young RPP
Health Building by Dr Randolph Stone DO DC ND
Energy Exercises by John Chitty RPP

Shipping weight weighing some 6.5 kilos (14lbs) and is yours for only £495 ($695 U.S) plus postage and packing
(£20 - £50 pounds depending on location. USA airfreight shipping is $50)

Make this the year that you begin to make a real difference in the world.

If after studying all the material you decide that you wish to become a certified Polarity practitioner we can help you to achieve this goal, full details are enclosed with your study package.

Masterworks International is the only training provider to offer such a clear yet comprehensive in-depth Distance learning programme in Polarity Therapy and to offer you the choice of how you study and to a level that suits you.
To ORDER NOW from the
MasterWorks SecureStore - click here