The Bedford Story
In 1931 two new British makes of motor vehicle took their bow- Bedford and SS (the future Jaguar). Both were instant successes, and neither ever looked back. To carry the parallel a step further, the basis of both was a tough 6 cylinder engine, both offered a lot of performance for a modest price.
In Bedford's case, the name and the factory have vastly differing origins. The first Bedford was a Buick dressed up with English custom bodywork to make to make it more acceptable to an already sybaritic clientele. Beyond the fact that some of these bodies came from Vauxhall's pet coachbuilder, Grosvenor, there was no connection with the Luton operation.
True, the first London-built Vauxhall's had been gas buggies in the American idiom, but from the move to Luton in 1905, the company settled down to a line of upper-middle class machinery in which performance bulked large. From the rapid Prince Henry 4-litre to the costly B-type six, the breed well merited its slogan – "The Car Superexcelent ". Commercial vehicles were not among their interests, if one excepts some strange Hansom cabs from their prentice years. Indeed, if one takes the early Vintage range as a criterion, Vauxhall were the last firm which anyone would link with the vast General motors combine in America.
Even the notorious lean year of 1921,the US giant turned out 186,607 private cars from its domestic factories. It was ready to extend into Europe, and such expansion meant at worst assembly plants: for reasons of import duty full-scale manufacture was preferable. After a brief skirmish with Austin (who wouldn't play) the colossus's eye lit on Vauxhall well equipped and well staffed, but consistently under-utilised. With the sort of cars they made –their idea of a cheap model was a 14/40 at £500 – annual sales of 2000 were about the limit. Further, some interesting technical sallies – a 4-cylinder shaft drive motorcycle and a luxurious single-sleeve-valve six had left the exchequer empty. By November 1925 GM were in control at Luton.
There was of course, no way of transforming the 30/98 Vauxhall's home overnight into a purveyor of anglicised Buick's let alone Chevrolets. In any case, the great depression supervened before the rejuvenated Vauxhall was ready to challenge Austin and Morris.
Trucks were, however, quite another thing. Chevrolet commercials had been on the British market since 1923 – for the record, the first one went to a Brighton turf merchant that June – and they sold better than Chevrolet cars. In the 1-ton field, Model T had all but run its course, so the main challenge came from Morris's new tonner launched in 1924. And while Morris stayed ahead of Chevrolet, the latter had a powerful shot in its locker – 1929's "Six for the price of Four". Now was the time to give Luton something to sell – and something to proof against slumps and horsepower tax alike. By 1930 the Vauxhall factory's main product was the 30cwt Chevy, outselling the big 20/60hp saloons three to one.
The next step was a truly British Chevrolet, with such improvements as full pressure lubrication, not to mention a payload of two tons. It was cheap: it was faster than the law permitted (0-50mph times of 50 seconds weren't impossible). And while it was a proper truck the word go, it had no complications beyond the capabilities of an ordinary garage mechanic. Best of all there was a ready-made international dealer (and assembly) network to make sure sales were backed by service. Soon New Bedford's were being put together in Melbourne Sao Paulo: shortly before and during the civil war, some very-Bedford like Maratons would also be produced in Barcelona.
In Britain, of course, the bogey to defeat was one of un-laden weight: anything that turned the scales at over 50cwt was limited to 20mph. Thanks to American influences, the majority of two-tonner's came out on the Rubicon's safer shore, but when Stepney-Acres's inspired WT hit the headlines at Olympia in November, 1933 the favourite press theme was "a 30mph three tonner ". The opposition might console themselves that it was only a prototype, and in fact it wasn't until the following June that the operators got their hands on it. But there was no stopping Luton: in 1935 the young Marque commanded 40% of domestic sales in the 30cwt/3-ton sector, 45% of bus sales in the under 26 seater class, and 63% of national truck exports. And the combined efforts of Morris, Rootes, Ford, and Kew-Dodge couldn't hive off more than 4% of medium truck business in the next four years. One wonders if they'd have kept this up, either: the improved 1940- model Bedford's had all the ingredients of best sellers and had to justify these hopes between 1945 and 1952.
The secret of Bedford's success was the same general-provider attitude adopted by Fiat in Italy: if there's a need we'll supply it. In the truck sector, of course, they had the edge on Fiat thanks to a healthy home market. Average new registrations in the 1930's were close on 64,000 in Britain, but less than a tenth of this figure in Italy. None the less Bedford's publicity hammered away at the theme of versatility. There was the trade ABC ("Z" stood for Bristol Zoo, owner's of a 30cwt model); there was also the Luton version of Minerva's maharajahs, which occupied two pages to the usual one of the carriage trade. Bedford plugged "household words", which meant anyone from Bulmers (cider) to Stephens (ink). Burton's "tailoring of taste", Cow & Gate milk, and Carter Paterson's Parcels all went by Bedford; among car makers Riley and Standard used the breed.
There was always a Bedford for the job. By early 1933, ambulances, fire engines and refuse collectors were all catalogued items. A few months later there was a true car-type delivery VAN to challenge Austin and Morris while 1934, of course was the year of the 3-tonner. Buses weren't forgotten, either. Chevrolet had already carved themselves a niche with the rural operators, and the first Bedford model to follow the two-ton range was a cranked-frame PSV chassis, on the market by the summer of 1931. Bedford's dominance of this sector has never been challenged for long: from the original WHBs and WLBs came the WTB, and the OB, the SB, and today's Y and JJS families. And as the bus market became more specialised, so coverage widened. In 1980 the company offered everything from the traditional village mini up to up to big 11 metre 59-passenger jobs.
Bedford sales broke 30,000 a year for the first time in 1937, and everything was set fair when war broke out. Not that this stopped production: Vauxhall Motors contributed a quarter of a million trucks, and was Britain's biggest producer of 4x4 types. They also "parented" the Churchill tank, creating its engine in 89 days, from the first go-ahead to bench tests. Significantly, too, they were given the task of building stopgap feeder-line buses to transport the workers.
The post –war story is perhaps not so much one of physical expansion as of ever growing versatility. Not that sales didn't increase, despite the capricious nature of the commercial-vehicle market, where a new model won't necessarily make operators throw the old one away. 1954 was the first 50,000-year, and six figures were achieved in 1960, when out of 103,403 new Bedford's more than 50,000 went for export. Production facilities were expanded: from 1955 Bedford activity has centred on nearby Dunstable rather than Luton, while since then light van production has moved north to Ellesmere Port. Foreign assembly has likewise been on the increase: by 1975 Bedford's were being built or assembled in twenty countries outside Britain.
The secret of success lay in making improvements available at modest prices, backed by proper service. If anyone actually pioneered forward-control light vans and miniature mobile homes it was Volkswagen, but Bedford's CA wasn't far behind, as sales of 370,000 in seventeen years testify. Further, this was only one of countless models (the Transporter in those days was the VW's staple commercial), and towards the end of its days it came in two wheelbase lengths and with a Diesel option.
Bedford policy was to buy a component out until they'd found ways to make it themselves. Two-speed back axles had long been catalogue items when the first Vauxhall built ones appeared in 1957, a few months after the company's first "in house" Diesel, beginning of a policy that would eliminate proprietary units. It would take another ten years to complete the process, even then the story wasn't over. The £25 million invested in extensions at Dunstable in 1973 paved the way to a scheme, which would add the hefty two-stroke Detroit Diesel to the range of Bedford products.
Making 100,000 trucks a year and selling them isn't the whole story. It's having what the customer wants that counts, and in this respect the post-war design team led by R.R. Bishop (who succeeded Stepeny-Acres after the war) has carried on the good work. The early 50's saw not only the CA VAN, but also the big 7-ton S- types with their 4 WD and PSV cousins. Normal control types were updated first into As and then into J-series, and 1961 saw the low-cab forward control TK's, a line still very much alive nearly twenty years later, and covering the heavies with GVW's of over 20 tons. When Vauxhall returned to small cars after a twenty-year lapse in 1963, there was soon a matching Bedford version. And when the faithful HA acquired a new image as an austere fuel-miser, the latest chevette saloon was "commercialised " into the more sybaritic Chevanne.
By the mid 1970's the traditional normal-control 3-tonner might be dead in England, but TJ's were still made for export, heading Pakistan's best seller list under the Rocket label. Bedford had moved up into the maxi-class with the huge TM's, and were selling them in Europe, where the British influences now predominated as a counterbalance to the increasing "Opelisation" of the Vauxhall car. New demands were being met with battery-electric CF VANS in the 15-35cwt category. Emergent nations needed a sub-utility lightweight without the complications of 4wd so Bedford came up with the BTV to challenge rival efforts from Ford & Toyota.
There have been miseries as well as splendours. The Ford challenge has always been strong, and Ford would like to extend their habit of consistently outselling GM in Britain from cars to trucks. Sometimes they've managed it: but not often. And after a few less heartening years Bedford were out on top again in 1976, heading the domestic sales stakes, and achieving a record export proportion of nearly 70%. The best previous showing was 62% in 1968.
Yes you still "see them everywhere". Even in the tricky Swiss market, TK's are frequently encountered on urban delivery work. And in 1980, there's practically no one in the commercial-vehicle game who won't find something to suit him. One wonders, too if Bedford-Lucas co-operation in the realm of the Battery electric may soon bridge even this gap.
From "GM'S BRITISH COMMERCIAL " by Michael Sedgwick published 1980
Ian's words
A nice introduction about Bedford's. To follow on from above the CF van was replaced in 1987 with the van called the Bedford midi (Isuzu), then dropped the Bedford name after a short time on the Astra van range.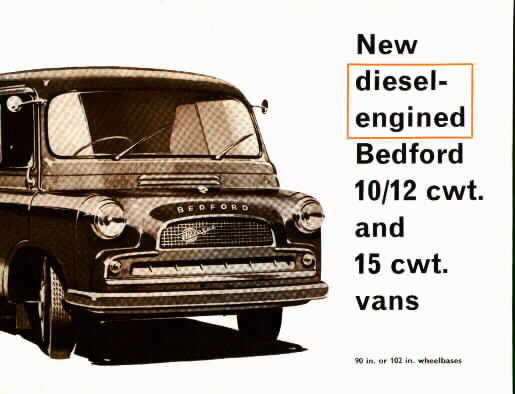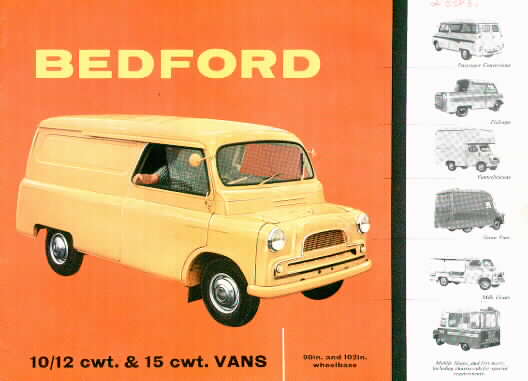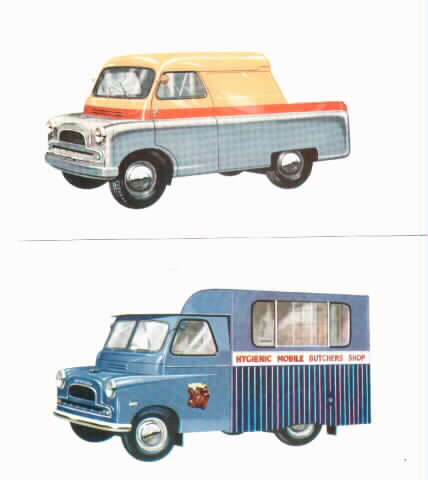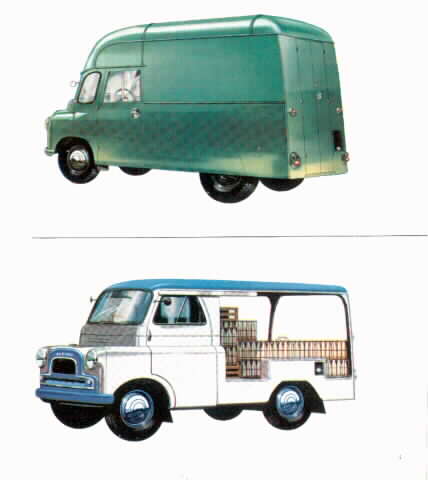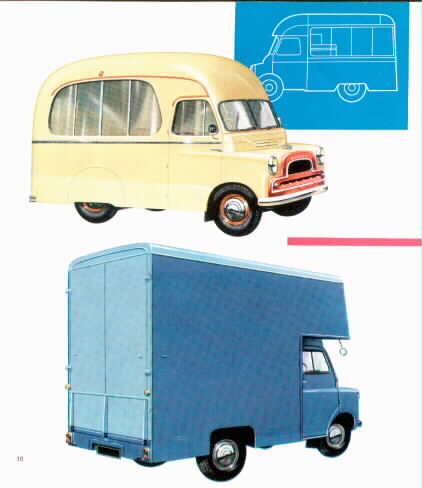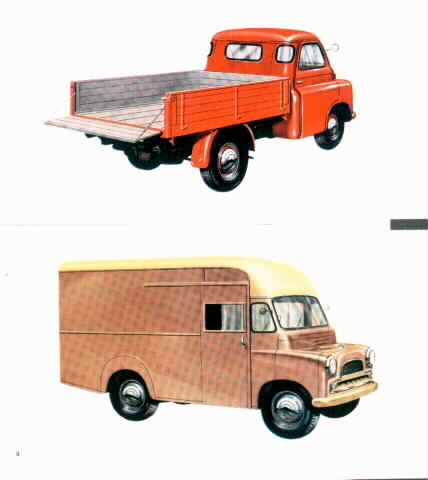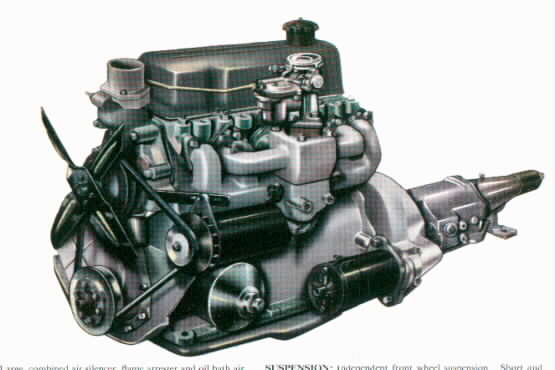 Engine specification:- (1595cc) or (1508cc )inline ohv
gross bhp 59 or 62, gross torque 89 or 93 lb/ft.
Transmission 3 or 4 speed (colum change)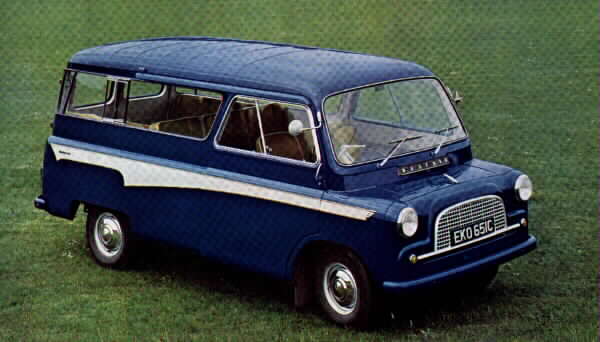 Mk2 utilybrake 1965 they dont make them like this anymore!