A pool of cold air over the British Isles due to high pressure. A very slow moving Occluded front started to move in from the south-west this caused a squeeze in the isobars and a resulting easterly gale set in. The snow resulted in snow drifts of between 3 & 8 metres (10-26 feet) high. By the 22nd, milder air from the Atlantic had replaced the cold easterlies and there was a general thaw. Without a doubt this slow-moving front produced one of Britain's memorable blizzards comparable with those of 1963, 1947, 1891 and 1881. One major difference between 1891 and 1978 was that Cornwall escaped this time, being in the warmer air.
8MM FILM IMAGES OF THE SNOW AROUND BRADNINCH
HIGH STREET
Only one car down high street. Now in 2001 there is 20+ cars down this street.
FORE STREET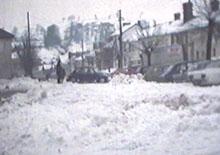 Looking down Fore Street from the centre of the Town. This car was trying to turn around.
SCHOOL- CANTEEN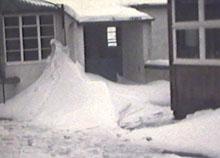 Snow blown up around doorway to the canteen building at the School
SLEDGING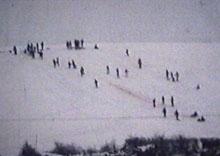 Sledging in the field below the cricket field
WESTFIELD
Looking up through Westfield
HELE ROAD
| | |
| --- | --- |
| | |
| The tongue of snow coming out of this gate shows that the wind was coming from the east. | Snow coming through the hedge |
HIGHER HILL (Hele Payne)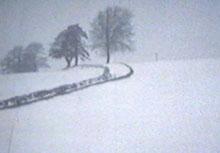 This it the top of Higher hill showing that the snow completely covered this road from hedge to hedge. The road at this point is 8 feet below the top of the hedge.
HOPED YOU ENJOYED LOOKING AT THE PHOTOS OF THE BLIZZARD OF '78
The images of the Blizzard of 1978 was supplied by the late Mr. Gay of Westfield