My experiences of travelling in Southern Africa 1995/96

---
In no way is this information an accurate and up to date guide. Please buy a Lonely Planet or Rough Guide, for example, travel book for the countries you wish to visit.
---
If you find this guide useful, please take time to sign my guestbook
Durban
I started my trip flying from London Heathrow, on South African Airways, to Durban. I arrived in 'Durbs' on the 2nd December 1995, it was a lot warmer than the chilly London I had left behind but as I later learnt, not as warm as it normally is for that time of year.

I had travelled to South Africa (SA) primarily to watch the end of the England v South Africa Test Match Cricket Series. I had arrived in Durban about two weeks before the third (of five) test matches was due to start, this meant I had ample time to 'see' Durban and possibly have a week away from Durbs before the cricket started.

I was planning to stay in backpacker/youth (a backpacker is basically one person living out of a rucksack) hostels to keep the cost of accommodation down and I booked my place in the hostel in Durban, from England, before I had left.


19 Smith Street, Durban Beach Youth Hostel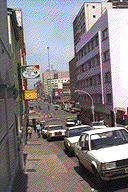 I chose to stay at the Durban Beach Youth Hostel as it was the only hostel in Durban which I could reserve a bed at from England. I did this using The Youth Hostel Association's (YHA) International Booking Network (IBN) scheme. I simply telephoned their head office in London and booked my bed in Durban!

Throughout my stay I found this hostel to be perfectly adequate as somewhere to lay my head every (nearly :-) night. It is close to the centre of Durban and five minutes walk from the beaches, which are very nice. Below are some pictures of the area around the East of the city and the beaches, these might not all be picturesque but thats life in the big city for you.

---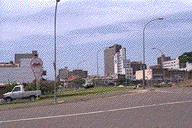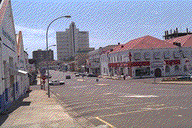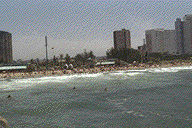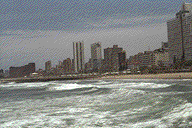 ---
So, that's Durban around the beach area of town, apart from the beaches, nothing to shout about. It is a very cosmopolitan city with many races and cultures. Once into the lush green Northern suburbs the houses are huge and lived in by whites. At the time of my visit lot of the houses had 24hr security and very high razor wire fences. Although I am informed that things are slowly starting to change and that there is a more relaxed atmosphere.

As you head further into the city, Smith St. extends from the beach to the center, you certainly notice the Victorian architecture. This becomes especially apparent around the City Hall and Museum area of Smith Street (10 - 15 minutes walk from the beach). Here are a few photos of that area:

Statue of Queen Victoria, City Hall, A Contrast of Architecture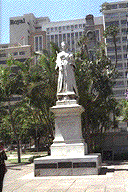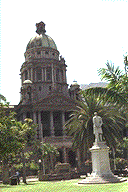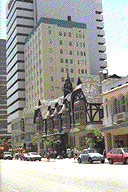 Smith Street, Durban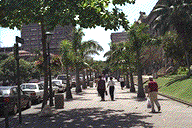 I spent about a week in Durban, then I decided to go into the Southern Drakensburg Mountains in the area of Sani Pass for a few days before returning for the cricket.
---




South African Diary Index
---
Last Updated on 12th August 1998 at 09:26:37
All images ©1995, 1996 Ian Simmins
© 1998 Ian Simmins
Email: