My experiences of travelling in Southern Africa 1995/96

---
In no way is this information an accurate and up to date guide. Please buy a Lonely Planet or Rough Guide, for example, travel book for the countries you wish to visit.
---
If you find this guide useful, please take time to sign my guestbook
Southern Drakensburg Mountains
I stayed at a place called Sani Lodge, which caters for Backpackers. It is situated about three hours drive West of Durban, the nearest sizeable town is Himeville. Sani Lodge is a very back to basics style of accomodation. I found it nice to stay in a place surrounded by mountains, no TV with either self catering or home cooked food.
Sani Lodge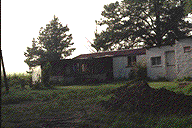 My immediate surroundings at Sani Lodge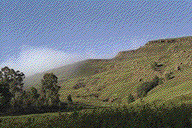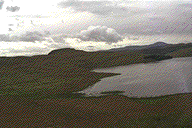 The advertisement for Sani Lodge talked about "rediscovering the lost art of conversation" and you certainly do. The lodge has dorm beds for twelve and three double rooms, when I arrived seven or eight people were already there, all English. Most people were there on their own so getting to know everyone was a necessity.

One of the first things I did was to hike out to a cave in the mountains with the idea of sleeping there the night. I was accompanied by an English girl, Karina, who I had met in Durban who had also travelled over for the cricket. The cave we were heading for was called Gxalingenwa, we had to book it for the night to make sure no one else would be sleeping there. Have you ever heard of someone having to book a cave for the night? :-)

These are some pictures of the hike to and from the cave where we slept one night:

Sani Lodge is hidden by the trees in the center of this picture.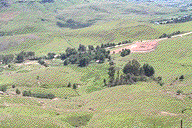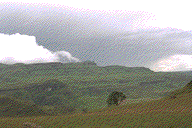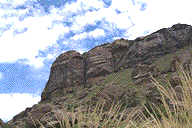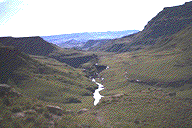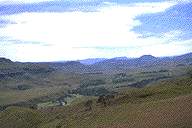 ---
We were told that the cave was about ten kilometres from Sani Lodge, we set out in the morning at about nine o'clock and it really was a magnificent route, the few photos above do not do it justice. At about three in the afternoon a vicious thunderstorm started, we were hesitant as to whether we had come far enough or even walked too far. Getting wet quickly, we decided to seek shelter under an overhang in the nearby rock (limestone) face - below.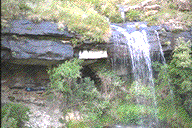 We had to fashion a pair of precarious beds out of the slates of limestone lying around the area. We were actually in our sleeping bags by about four o'clock in the afternoon and the thunderstorm was then in full flight. It rained, thundered and flashed with lightning all night, so with hindsight we had made the right decision in stopping when we did. I didn't have a good night's sleep but I had enough, Karina had none!

The photo above was taken the morning after we 'moved in', that is why you may be able to make out a sleeping bag on the left of the picture.

This was the scene at sunrise the morning after our night in the 'cave', from behind the waterfall: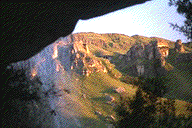 Obviously we hadn't found the correct place but we slept out in the mountains overnight, that was good enough for us. So, we hiked back to Sani Lodge and had our thoughts confirmed that we hadn't found the cave, it was good fun though. Over the next couple of days I just relaxed in the beautiful surroundings, meanwhile, Karina had gone back to Durban, we had agreed to meet there. I then set out to go up Sani Pass itself.

---
---
Last Updated on 18 th April 1996 at 17:50:28
All images ©1995, 1996 Ian Simmins
© 1996 Ian Simmins
Email: