Is it really possible to learn a bodywork system via distance learning?
The simple answer is YES. Realistically a very large part of any bodywork training is theory based (the current APTA breakdown) there is no reason why all theoretical presentations need to be done in a traditional classroom setting. The refinement of the quality of touch that is so important to be an effective bodyworker is evolved in the 10 days of contact time that is part of the course structure.
Are there advantages to distance learning?
Definitely, group instruction can be a problematic issue for some people. You cannot choose your classmates and sometimes the group dynamic can over shadow the fundamental purpose of the course and impede the learning process. Effectively the global Polarity Distance learning course offers in large part individual tuition. The material is absorbed at the rate that is most relevant for you as you are not being dictated by the overall learning pace that takes place in a group setting and which is often dictated by the slowest learners in the group. You also have access to experienced, international trainers and a body of work that you can review at any time. It also limits the amount of money and time that you can spend on travel and accommodation when you do a long term training.

What are the disadvantages of this kind of training?
The main disadvantage is that it requires much more personal discipline in the study process, there being no group energy to support the learning. All groups offer mutual support, encouragement and even friendly rivalry as motivating and support factors. You also miss out on listening to other students questions being answered though it must be said that the online student bulletin board will allow you to see some of your fellow students questions and read the answers, but not the questions of fellow participants who use other more private forms of supervision/mentoring in their learning process such as audio, videotape or email.
The course seems shorter than other trainings that offer the same qualification why is this?
The time difference is because this unique distance learning format is essentially individual tuition. This means that you can study the material presented much faster than in a traditional group training. In this structure once you have asked your specific questions about the material you are studying you can move on to the next lesson. In a traditional class their may well be questions that need answering from every other student before moving on to new material. In a traditional training the group will typically meet in class once every month whereas in this format you can elect to have new lessons everyday should you so wish.

I donít have a computer does this mean that I canít do the course ?
Absolutely not. To do the course the only requirements necessary are a video player and a cassette deck. In todays world many people do have access to computers, if not at home then through libraries or cyber cafes but it is perfectly feasible to do the course without one.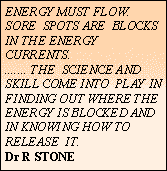 What if I donít understand part of the material ?
Thatís what the tutors are here for. You can contact them through email, telephone or audiotape and receive help in this way.

What exactly does the course fee cover ?
A learning package of materials which includes all the books written by the founder Dr Stone and five further titles on Polarity. Two titles on anatomy and physiology. Four course manuals. Video tapes covering all the bodywork sessions, Polarity Yoga exercise, Chi Kung exercise and communication skills and five series of audio tapes on all aspects of Polarity Therapy. The fee also covers access to a course tutor, lesson plans and study guides and ten days of face to face tuition to hone your skills. Those students with computer and internet access will be given a password enabling them to log on to the Masterworks International student bulletin board which is a forum for students to interact with each other and with various tutors thereby becoming part of an online learning community.
How long does the course take ?
It is designed to be completed in one year. Though this is an approximation as some students will complete it more quickly and others may feel the need to move at a slower pace.

How exactly is the course structured ?
On receipt of your application you will receive your learning package of materials. You will also receive the first lesson plan and study guide for you to work through and a number of assignments for you to complete. On completion you send them to the course mentor who will assess them, give feedback and then forward the next assignment. At the end of your course of study you are required to attend a ten day intensive where you will meet with a tutor and your bodywork skills and theoretical knowledge are polished prior to completion. These intensives are presently held in London England, Washington DC and San Francisco USA, and Johannesburg South Africa. The intensives are non residential so note that you will need to pay your travel expenses and accommodation costs Ė but not your tuition.
Do I need to be a therapist or health care professional in order to take the course ?
No. All you need is a genuine interest and liking for people and a desire to help. Of course if you are already a health care professional then Polarity will enhance your practise greatly.
Is all the course material in English ?
Yes it is at present so you will need to be proficient in both the written and spoken English.

Do I receive certification ?
On successful completion of all course assignments, attendance at the 10 day group training and final examinations you are awarded a diploma from MASTERWORKS INTERNATIONAL certifying your skill and competency to practise the art of Polarity Therapy. The training offered is in large part based on the American Standards of practise issued by the American Polarity Association which is fast becoming the lead body for Polarity world-wide.
What happens after I finish the training ?
Hopefully you will establish a successful practise as a Polarity Therapist ! However, Polarity Therapy is a vast subject and there is always a need to enhance and deepen your skills, with this in mind, Masterworks International will hold an annual post graduate seminar. You could also attend the annual APTA conferences that are held in the USA. You should also avail yourself of ongoing supervision and support.
What does the training cost?
This depends on what country you live in in Europe it is £1845. In the USA/Canada it is $2995 US. In New Zealand it is $5,000 NZ, approximately the same for Australia. It is less for Eastern European and African countries approximately the local equivalent of £1100. Please email us for details for your area. Payment plans are available.
If you have read this far please email us with your mailing address to receive the full prospectus, syllabus and application form.