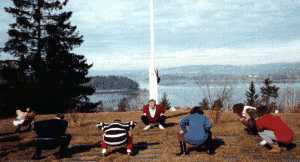 Norwegian polarity students practising the squat, one of Dr Stone's favourite exercises,during a morning exercise class (overlooking King's Lake)
New course begins February 2001
The Norwegian Polarity Institute runs full professional trainings in Polarity The training is undertaken part-time over a two year time period. The course is to be held for the first time in Merke. The group meets for four days approximately every other month. Training consists of theory lectures which are delivered in English, with translation, and in Norwegian and extensive periods of practical sessions in bodywork, cleansing and exercise.
Students in training and qualified polarity therapists can meet once a week at the offices of the Institute in the heart of Oslo to exchange sessions and continue the learning experience. Here too, members of the general public attend to receive polarity therapy.
The Institute is also the office of Unnolv Bjerknes, a qualified polarity therapist and massage therapist who is also trained in colonic irrigation. Unnolv co-facilitates the Norwegian training, giving major input on diet, nutrition and cleansing practices.
For further details call Unnolv (English & Norwegian spoken) on tel no: 0047- 22-360101(fax 0047-22-360321) or email us at masterworks@eclipse.co.uk
Norsk Institutt for Polaritetsterapi
Norske polaritetsterapistudenter øver seg på "squat-øvelsen", en av dr. Stones favoritt øvelser, her har de utsikt over Tyrifjorden.
Norsk Institutt for Polaritetsterapi gir 2 års, profesjonell, deltids utdanning i Polaritetsterapi. Ny utdanning begynner i Merke i april 1999.
Studentene og kvalifiserte terapeuter kan møtes en gang i uken i instituttets lokaler i Oslo sentrum for å utveksle behandlinger og på den måten videreutvikle sine erfaringer. Her holdes det informasjonskvelder, introduksjonskurs, kurs i levende (vegetar) kosthold. Her gis også daglige behandlinger i polaritetsterapi, colonic irrigatiopn (tarmskylling), kostholds- veiledning osv.
Instituttet er også kontor for Unnolv Bjerknes som leder Polaritetsterapiskolen og som er praktiserende terapeut.
For videre informasjon ring: Unnolv Bjerknes Tel. (00.47) 22. 36 01 01, eller fax: (00.47) 22 36 03 21 (engelsk, norsk eller indonesisk tale). eller e-mail til masterworkseclipse.co.uk Skriver du er adresen: Kristian August gt. 19, 0164 Oslo, Norway. Tilbake til Polaritets siden