Group Training

Beginning October 4th - 7th 2001

Masterworks International is offering a group training in Polarity Therapy which consists of ten 4 day workshops held over a 15 month period.
The course will be held in Exeter Devon and is non-residential. Each training day begins at 9.30am and finishes at 7pm. There will be practice sessions, reading and written work to be completed between workshops.
Dates for the course are as follows
2002
January 10-13
February 21-24
April 4-7
May 16-19
July 4-7
September 5-8
October 24-27
December 5-8


The course will cover:
BASIC AND ADVANCED ENERGY THEORY
DIAGNOSTIC PROCEDURES
ENERGY BALANCING TECHNIQUES
FIVE ELEMENT THEORY AND APPLICATION
MIND ENERGY THEORY
STRUCTURAL BALANCING
POLARITY YOGA EXERCISES
NUTRITIONAL AND NATUROPATHIC THEORY AND PRACTICE
COMMUNICATION AND FACILITATION SKILLS
TRANSPERSONAL TECHNIQUES
The cost of the training is £1850. A deposit of £250 is required to register for the training. Remainder of the fee is payable on first workshop or by monthly standing order payments of £112. Credit card payment facility also available.
You will be required to have ongoing Polarity treatment during your training (15 sessions minimum ). A detailed copy of the full syllabus can be sent on request. The training emphasises technical skills and practical hands on experience. A certificate of attendance and competence is given upon satisfactory completion of course material and final theory and practical examinations.
YOUR MASTERWORKS TEAM TUTORS
Phil Young RPP, Morag Campbell Cert.Ed MNIPT,
Peter Goldby DO.RPP and Bryan Lowe Ad. Dip Coun, Mstr Prctnr NLP
TRAINING PRE-REQUISITE
One introductory weekend with Masterworks or any other accredited training body is a pre-requisite for the full Registered Practitioner level group training.
INTRODUCTORY WEEKENDS - To be announced.
Individual Training
Masterworks runs Intensive trainings in Polarity from its home base. These trainings are ideally suited to the health care professional who has experience of working with others in the fields of nursing, osteopathy, chiropractic or massage but who for various reasons cannot commit to another lengthy ongoing part time training, maybe in another country, yet wishes to learn the art of Polarity Therapy. Travel to and from England can be costly, time consuming and exhausting, the training is designed to be taken in two blocks of time, working full time with on a personal basis with two of the most knowledgeable and experienced trainers in the field.
The high contact time with the trainers and the total immersion in the system for up to 40 days heightens the learning process and ensures levels of personal development not normally available within a group setting. For this reason alone, some people have chosen to undergo the training as a means of learning more about themselves and advancing the process of change in their lives.

The fee for individual training is £6000 ($8500).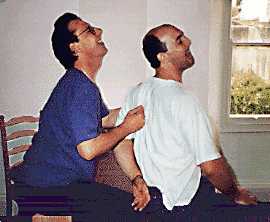 Brachial Plexus release , not as much fun as it looks!
See also the online distance programme and Teacher Training