Welcome to my page. I have a Capri page with the Life Story of a 24 year old Capri (one owner from new) in process with some of the early and recent years now completed. There are some photos of different Capris.
Bored and fancy a quick jigsaw puzzle if you don't want to look at any more cars for a while?
I have included a page about the artist Sioban Piercy and will have some images of her work apart from the present background image.
How many car lengths would it take you to stop at 60 mph (96 kph)? Take this quick test to see if you were right.
If you are an advanced driver you are less likely to have a serious accident by 50 to 70 percent compared to the average driver. Observers give their time free and you use your own car. So all it takes is determination and effort.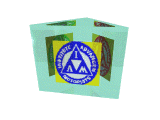 Institute of Advanced Motorists/UK

RoSPA Advanced Drivers Association/UK

Looking for a free online classic book?
Last updated 20 February 2003
Visitors