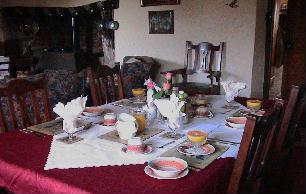 Breakfast is taken in the farmhouse dining room above.
We provide B&B in Stable Lodge if not already booked for self-catering.
If you are visiting for a wedding at Thelbridge Cross Inn or other family occassion locally, we can accommodate a larger number using both cottages.
For vacancies you can telephone or email us for details or click here: Vacancies
Full cooked English Breakfast any combination you choose and times to suit.
We offer fresh grapefruit, prunes, yogurts, fruit juices, selection of cereals, toast with choice of tea or coffee. Including speciality teas and caffetiere coffee. Together with a full cooked English breakfast to suit using our own eggs & other local produce. We can cater for special diets or requests as long as we know in advance.
B&B is from £35-£40 per person.
We offer breakfast with self-catering for £8 per person.