The purpose of this page is to offer myths, legends, stories and history both ancient and modern about the island of Kaua'i as well as information on current events. I am indebted to Brenda Turville and Aunty Sarah for most of the material on this page(s), if you want to see the videos you need to download the free vivoactive player.
LEGENDS
Legend of Kaua'i

By Sarah Sheldon






Listening and hearing the many different pronunciations of our island, Kaua'i, no doubt brought about the question - which is the right way?
This answer was given by Lilia Wahapa'a, one of the oldest residents of Waimea many years ago.
"What I am going to tell you is a legend that has been told to me by my ancestors," she said.
"Wakea and Papa had a daughter, a beautiful child and she became more beautiful each day. Her father, Wakea, was very fond of her and he used to carry her on his shoulders, straddling his neck. He told her that this was called "Kau" (to ride) a'i (the neck). So when anyone wanted to carry her, she would say "Kau a'i." She was such a pretty child, everyone wanted to carry her, but if you didn't let her ride straddling the neck she would refuse to be carried. People began calling her Kau a'i and everyone knew her by that name.
As she grew up, her beauty continued to increase - and the gods, Ku and Lono, became very interested in this beauty. Finally Ku said to Lono, "It would be a shame to see such beauty lost one day, so why don't we turn her into a beautiful island. We shall give the island her name and it will be the most beautiful island in this group of islands. This way her beauty will never be lost. And so it was done."
As a young child, I often, with my grandparents, traveled to Waimea to spend a weekend with our relatives, the Naumus. I remember going far up the valley, Waimea Uka, along side the banks of the river where the home was located. It was so much fun fishing in the river instead of the ocean and then after a good nights' rest attend church the next day being Sunday.
The little Mormon church was situated in the Waimea Valley and there we would meet with more relatives - it seemed everyone was related. There we would meet with Tutu Wahapa'a, the only name I knew her by. She lived up in the Makaweli Valley, across the Waimea River and although she was about 100 years old at the time, she continued to walk about a mile from her home, crossing the Waimea River over the suspension bridge to attend church every Sunday morning. She lived to be 118 years old.
I remember hearing an old Hawaiian saying - "Hei lani ko luna, a he honua ko lalo." The heaven above us, the earth beneath us - that is the whole of life.
Many of our kupunas believed this -- we came from the heavens above - sent to walk and work this earth.
(Auntie Sarah knows that there is at least one other legend about the name of Kaua'i, one being that when Hawaii-Loa came here, he had another wife named "Waialeale" for the ponds of water that sparkle up above the top ridge of the Mt. She bore him a son, and they named him Kaua'i. However, she has always liked this story because it was given by one so much older than herself. I believe that this TuTu was born somewhere around 1832.)


A vivo video view of the south shore of Kaua'i!
A vivo file is a highly compressed video file that will play as it downloads. You will probably need to wait about 1-3 minutes before it begins playing (depending on the speed of your net link).You can replay the file after it has completed downloading and it will be stored in your browser cache for later viewing and archiving. If you have trouble replaying the clip from the video control button after it has downloaded simply press reload or refresh and your browser should replay it straight from the cache.
HISTORY
Poliahu Heiau

In our archive in the article on Hawaiian Temples there is a drawing showing some archaeologists idea of what they propose the heiau to look like. The outer walls are correct as to what still stands today, but the inside isn't right. It is a little known fact that here once was, not so long ago, 12 stone chairs in the South West corner? Also the altars for burning herbs and spices to entice the Gods, was toward the South East end. The chairs were hewn, or carved for sitting purposes. Auntie Sarah was shown them by her grandfather when she was a child in approximately the 1920's. She doesn't know exactly when they taken out. She had seen them many times. It seems that people just came and stole them!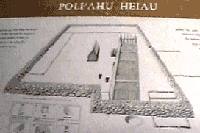 CURRENT EVENTS
"He Olelo Ho'ohiki I Malama 'Ia" - "A Promise Kept."
Last year some 6000 people attended the performance of a pageant on Kaua'i called "He Olelo Ho'ohiki I Malama 'Ia" -(A Promise Kept). Shown from Aug. 1st, 2nd, 6th, 7th, 8th, 9th. 1997. (1998 Dates to be announced - If you would like more details on the 1998 pageant please feel free to email Brenda Turville the director of the page) and with a cast of about 225 people from baby keiki to Kupuna. The pageant is now in its fifth year and looks set to continue.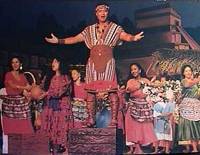 About 600 BC, shortly before the destruction of Jerusalem by Babylon, which was being foretold at that time by Jeremiah the Prophet, a man named Lehi was commanded by God to flee Jerusalem with his family. Taking with him the sacred records of his forefathers and the family of another, they fled through the wilderness to the west and south and built a ship to escape the hoards of Babylon.
After landing on the American continent, they multiplied and became a great people. They eventually divided into two conflicting groups, each led by a son of Lehi, Laman , the eldest son and Nephi, a younger son. Laman and his people who chose the ways of evil and Nephi and his people who chose the ways of God, were frequently at war with each other. Over time this divided people became two nations called the Lamanites and the Nephites.
Many years later about 55 BC, the opening scene of our pageant shows the Nephites and Lamanites are once again engaged in battle. The Nephites, weary of war and desperate for peace, once again are building ships to sail and find a land free from war and persecution.
Hagoth, the skilled ship builder, invites Hawaii-loa, the seasoned sailor, to sail one of his ships for freedom. Hawaii-loa and his family along with many others depart, return once to more to bring others, and then depart for the last time never to return. They settle in a chain of islands, later to be called Hawaii, and begin to prosper there.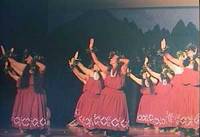 About 88 years later, following Christ's crucifixion, resurrection, and ascension, He visits some of His "other sheep" around the world. He visits the Americas and the islands of the Pacific. During His visits He teaches the gospel, astronomy, nature, medicine, and much more. He raises the dead, heals the sick, and departs with a "promise" to one day return.
Many years pass with the people awaiting His promised return with great anticipation as witnessed by the celebration of the Makahiki in His honour. Then, one day in 1778, Captain James Cook sails into Waimea Bay on the island of Kaua'i. Thinking him the great white god of promise, they called him "Lono," and welcomed and worshipped him. But alas, they are disappointed when they realize he is not a god as they supposed, but just a man. The years following Captain Cook's visit are filled with doubt about Lono and His promise.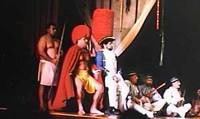 In the mid-1800's, missionaries bring the gospel of Jesus Christ and a renewed hope the He will return. These missionaries give the islanders The Book of Mormon, which testifies of His return and gives new hope to those who believe. The beloved Queen Liliuokalani receives the book and the gospel. She bears testimony of the gospel and calls to her people to "Come unto Christ," so they may stand to see "A Promise Kept."